97th OAND Annual Conference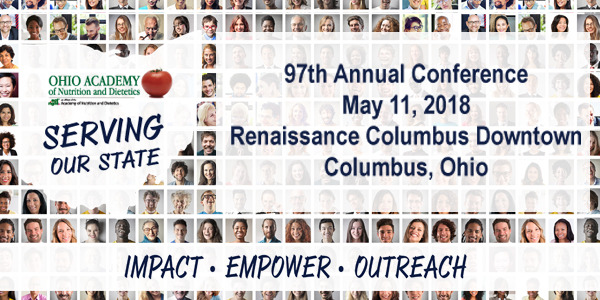 Our theme this year was Serving Our State. With this theme in mind, the committee issued the first ever call for speaker proposals. We received many responses and the committee chose the topics and speakers that were presented this year from a fantastic group of proposals. Attendees received up to nine (9) continuing education hours.
The sessions included:
Dietary Patterns: The Underlying Story
Academy and Foundation Update + FoodMASTER Program
Your Writing Can Make or Break You
Reducing Food Insecurity, One Can at a Time
Unleash the Inner Chef in You
Reinventing the Food Truck: Creating Healthy Communities through Mobile Education
Plant Foods for Feeding Health in Diabetes
Culinary Medicine in Ohio: The Role of the Dietitian as Teacher, Researcher and Innovator
School Nutrition 2.0: Best Practice in 2017
10 Steps to Launching a Nutrition Start-Up Company
From Fear to Facts, Understanding the Issues in Modern Agriculture
Malnutrition Prevention Commission Report – HB 580
STUDENTS: The Sponsor A Student Initiative (SASI) received funds from a generous group of members to discount the first 50 student registrations received.
Academy Foundation/Food and Culinary Professionals Speaker Grant
American Dairy Council Mideast
Ohio Beef Council
Ohio Poultry Association
Vegetarian Nutrition DPG
Thank you to our Exhibitors!
Abbott Nutrition
Akcea Therapeutics
American Dairy Council Mideast
Benecol USA
Cleveland Clinic Dietetic Internship
Functional Formularies
General Mills
Hillestad Dialyvite.net
Keepsafe Food, LLC
Lincare
Medtrition Inc.
Nutra/Balance Products
Ohioeggs.com
Ohio Pork Council
Rachel Pauls Food
The Center for Balanced Living
The Emily Program
Vegetarian Nutrition Dietetic Practice Group
Wood County Hospital